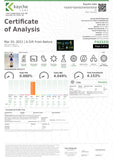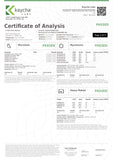 Flavor Me 1000 mg Broad Spectrum CBD Tincture
Flavor Me 1000 mg Broad Spectrum CBD Tincture
Do you love the power of full-spectrum CBD but fear the psychoactive effects of THC? Or a fear that its presence might flag a failed drug test? Then this broad-spectrum CBD oil 1000mg is for you. 
The bottle contains 1000 mg of cannabinoids naturally extracted from hemp plants, meaning you'll receive the plant's entire profile of beneficial compounds without any traces of THC. 
That also means you can expect to experience an entourage effect of the compounds working synergistically to provide broad-spectrum CBD benefits such as: 
Inflammation
Anxiety
Pain
Soreness
Stress
Problems Sleeping
And more…
The best CBD tinctures often have a raw, natural flavor from their purity. That is why Flavor Me offers its own Flavor Me Flavor Enhancer Pouches to mask the CBD hemp oil tincture's organic taste. 
Using a broad spectrum CBD tincture is simple and can be swallowed orally or with your favorite foods or drinks. It may also be consumed sublingually by holding the liquid under your tongue for a period of 30-60 seconds. With this method, you can expect more rapid results within 15-20 minutes vs. 45 minutes-one hour when swallowing. 
Order CBD tinctures online to achieve broad spectrum CBD benefits now and continue to shop at Hemp Joi for all your holistic health needs.
Dose with caution as overdose may lead to dizzying or other adverse effects.