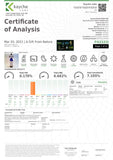 Flavor Me 2000 mg Full Spectrum CBD Tincture
Flavor Me 2000 MG Full-Spectrum CBD Tincture
A CBD best seller, Flavor Me 2000 MG Full-Spectrum CBD Tincture, is well-rounded for a wide variety of consumers. The oil is a moderately potent CBD tincture (With no more than 0.3% THC by volume) and offers the hemp plant's whole plant profile of beneficial terpenes, cannabinoids, and compounds, like flavonoids, for all-natural healing. 
CBD hemp oil tincture delivers consumers a synergy of benefits, known as 'the entourage effect' which refers to hemp's compounds amplifying one another when consumed together vs. individually. In addition to CBD, inside this Flavor Me Full-Spectrum Tincture, you'll find a variety of minor cannabinoids with their own beneficial effects including: 
CBGa 
CBG
CBC
CBN
And more…
Using CBD tincture is simple. Just hold your individual dose under your tongue for thirty seconds to one minute for sublingual consumption. Consumers can also mix it with Flavor Me's notable flavor enhancer pouches to enhance the taste. 
Each Flavor Me tincture is third-party tested, with transparent test results to confirm safety and potency. Whether you're shopping for CBD tinctures for sleep, or stress relief, this Flavor Me 2000 MG full-spectrum product is one of the best CBD tinctures for a full spectrum effect.
Dose with caution as overdose may lead to dizzying or other adverse effects.