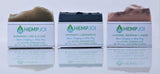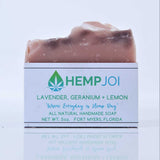 All Natural CBD-Free Soap by Hemp Joi - Choose Your Scent
Not interested in having CBD infused in your soap? Try these amazing naturally scented soaps.  Nothing like the relaxing scent Spearmint, Peppermint, Lavender, Geranium, Lemongrass and Pine.   These soaps smell so good you'll want to give them to everyone you know!
Choose Your Scent from the options listed below!